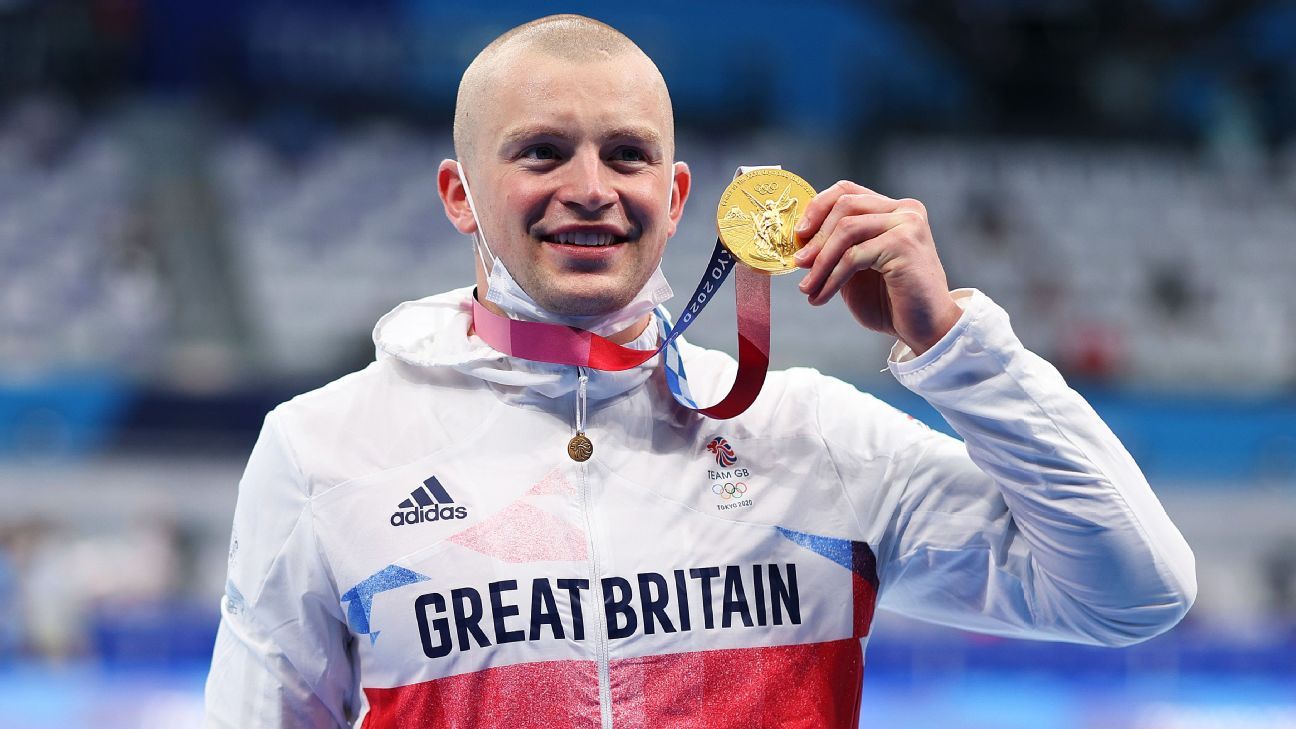 Adam Peaty roared with pride and relief as the fastest breaststroker in history became the first British swimmer to defend an Olympic Games title with a dominant 100m win in the Tokyo pool on Monday.
The gold was also his country's first of the 2020 Games, just as he provided the first at Rio de Janeiro five years previously.
"I haven't felt this good since 2016," the 26-year-old world record holder told BBC television before putting the medal around his neck and posing for photographers with the British flag.
"It just means the world to me. I thought I had the best preparation of my life but then you throw in morning finals and you throw all that out the window."
Peaty was Britain's banker for gold, as much of a certainty as is possible in an Olympics overshadowed by the COVID-19 pandemic.
He walked out with a swagger, towel around his neck and arms raised with chest puffed out but underneath it all there were still the nerves of a man carrying a nation's mighty expectations on his back.
Once he hit the water, however, there could never by any doubt. This was re-Peaty all over.
The Briton reached the turn 0.10 off his record and touched out in 57.37 with closest rival Arno Kamminga of the Netherlands taking silver in 58 seconds exactly.
"I did feel a little pressure into the final but it's a good pressure. I needed to put myself on edge. I needed to go my fastest," said Peaty, who has a tattoo of a lion on his shoulder.
Kamminga is the only other swimmer to have gone under 58 seconds in the event and Peaty had the fastest 16 swims of all time before Monday's final but his record of 56.88 was not in danger.
"I'm not racing for a time, I'm racing myself … it's not about a time its about a race," said Peaty.
"This has closed a chapter for me. It was unfinished business.
"This victory wasn't mine. It was the British swimming team, my family, my friends and those people I had to put to the sidelines for the moment because I knew it was going to take absolutely every single bit of energy to get to this point."
Elsewhere in the pool, Tom Daley and Matty Lee won gold with a score of 471.81 in the men's synchronised diving.
The pair beat off strong competition from defending champions China, narrowly beating Cao Yuan and Chen Aisen by 1.23 points.
😢

Mission accomplished.#TeamGB | @TomDaley1994 pic.twitter.com/ClyyTIm1ZP

— Team GB (@TeamGB) July 26, 2021
Britain's third gold of the day came from Tom Pidcock, who had a convincing win in men's mountain bike race.
The 21-year-old, who broke his collarbone in May, became the first-ever medalist for Team GB in mountain biking and the youngest ever Olympic champion in the event.
Lauren Williams narrowly missed out on gold in the women's -67kg taekwondo final after a tense battle with Croatia's Matea Jelic.
The 22-year-old held a slight lead after the first round but Jelic brought it level at the end of the second.
Despite bringing back a small lead in the final round, late hits from Jelic in the closing 14 seconds meant Williams had to settle for silver.
"It's not enough, I had her, 10 seconds, I just let it go … I made a mistake and let it go, it's on me," Williams said.
"I went out there to win and tried my best but it didn't happen on the day. I am very happy with how I performed but it's a shame she got it. An Olympic silver medal is not bad, is it?
"It's been absolutely crazy. For my first Olympic Games, it's been insane. A very good experience. A big thank you to the people at home. It's been a very good day."
Taking what's hers. 🥈

Still an achievement for @LaurenW_TKD who impresses on her Olympic debut.#TeamGB pic.twitter.com/moKwFhWOF2

— Team GB (@TeamGB) July 26, 2021
Elsewhere on Monday, Alex Yee continued Britain's strong pedigree in the triathlon as he took silver, finishing behind Kristian Blummenfelt of Norway.
"It hasn't really sunk in quite yet, it doesn't feel real like it's me yet," Yee said.
"I still feel like a normal boy from south east London. I hope I can serve as an inspiration to people to show this is possible. I'm not anything special, I just really enjoy sport and have been really lucky."
The Brownlee brothers had long dominated the sport with Alastair winning gold at London and Rio, and his brother Jonny taking bronze and then silver, but while Jonny finished fifth at Tokyo, Yee secured his status as the heir with a brilliant performance.
"Jonny still came fifth in this race, that's pretty incredible," added Yee.
"It was brilliant for him to race so well. There's another life in him, he's been really good in training. It's hard to say what those guys will do.
"All I'd say is that legends never die. They've created a legacy for our sport. Triathlon wasn't what it was before they started. Now it's got the platform that it's on and I hope I can do the same for the sport."
A brace from Liam Ansell saw Great Britain's men's hockey team beat Canada 3-1 for their second win of the Olympics.
The opening goal was scored by Ansell just after halftime with an assist from Sam Ward.
Ward then doubled GB's lead from a penalty corner before Canada pulled one back through Floris van Son.
Ansell was on hand, however, to add a third and secure the win with just four minutes remaining on the clock.
"It was a big three points for us," Ansell said. "We knew coming into this game we wanted to leave a mark on the game and dominate the ball, keep a lot of possession and make them run — and hopefully by the end of the game that would tire them out and allow us to score those goals.
"We're always trying to improve — we'll look back at this game and see what we can improve straight away for tomorrow [against Germany].
"We want to win every game — you never want to lose or draw, you go out to win. Our focus is on the next three games — they're tough opponents but we've beaten them in the past and we want to do that again.
"We want to finish top of the group and keep that momentum going."
Great Britain's women's hockey team won their pool match against South Africa 4-1 after a disappointing 2-1 loss to Germany on Sunday.
South Africa led from a first-quarter goal but Ellie Rayer scored a stunning deflection just before half-time to bring things level.
Lily Owsely and Laura Unsworth added two more in the third-quarter before Rayer slapped in a second goal with 10 minutes to go to seal the victory.
The men's rugby sevens team, who won silver in Rio, also had a successful start to their tournament, beating Canada 24-0 and Japan 34-0 in their first Pool B matches.
Dan Norton grabbed two tries for Team GB against the Olympic hosts, in what were two dominant displays.
Elsewhere, defending champions Fiji beat Japan 24-19 despite trailing at half-time.
However, there'll be no medal for Jamie Murray and Neal Skupski in the men's tennis doubles after they were beaten by Japan's Kei Nishikori and Ben McLachlan in the second round.
Team GB's men's gymnastic team also narrowly missed out on a medal after finishing fourth in the team final.
Information from Reuters was also used in this article