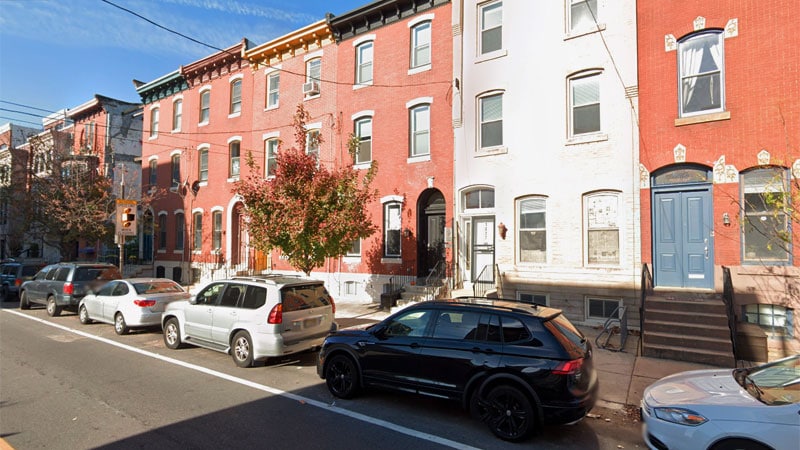 A Philadelphia neighborhood called "Black Doctors Row" has been temporarily spared from demolition, after the recent passage of a bill that gives officials extra time to find a long-term solution.
Philadelphia City Council approved a bill on June 24 that establishes a 1-year demolition moratorium of properties on Christian Street between Broad and 20th Streets — an area slated for new condominium development. Notably, this includes Black Doctors Row, a stretch of neighborhood settled in the 19th century by prominent Black Philadelphians.
Black architect and Philadelphia native Julian Abele — who designed more than 400 buildings nationwide, including the Philadelphia Museum of Art and the main branch of the Free Philadelphia Library — lived in the neighborhood for 25 years. Abele was the first Black graduate of what is now known as the University of Pennsylvania School of Design.
"I want to thank my fellow members of city council, the South of South Neighbors Association (SOSNA), and the Preservation Alliance for Greater Philadelphia for supporting the passage of this legislation," said council member Kenyatta Johnson, the bill's creator. "Christian Street has been a historically vibrant, professional community for decades. The corridor has always been a very vibrant area and we want to make sure we maintain the cultural fabric for decades to come."
SOSNA and the Preservation Alliance for Greater Philadelphia were reportedly preparing to submit an application in late June to the Philadelphia Historical Commission asking that the area be deemed a historic district. The decision is expected to take several months.
The Society to Preserve Philadelphia African American Assets (SPPAAA) issued a statement in support of Johnson's preservation efforts.
"Christian Street from Broad Street to 20th Street in South Philly is well known to some, but certainly not to all, that these blocks were the residences of prominent African Americans and came to be known as Black Doctors Row," the SPPAAA statement said. "These beautiful properties are now being threatened with unnecessary demolition by speculative developers that have no regard for the historic fabric of Philadelphia. Creating a historic designation will give some hope to preserve the visibility of our legacy."
However, some say there are ulterior motives unrelated to Black history. Faye Anderson, a historic preservationist in Philadelphia, opposes the effort, saying the neighborhood's roots in Black history are being used to preserve what is now a mostly White neighborhood.
In a statement posted on Twitter, Anderson said: "The significance of the notables of 'Doctors Row' pales in comparison to the history makers of North 5th, Lombard, and South Streets — and Washington Square West."
In addition, she said, the area was home to a nominal number of elite Black residents, like doctors.
"Doctors Row elites walked along Christian Street with their nose in the air but they were living in the same 30th Ward as newly arrived Black migrants from the South," Anderson said in a tweet. "I'm talking about the Ghetto."
Lindsay Kalter is a health freelance journalist who has held positions with Politico, the Boston Herald, and the American Heart Association. Aside from WebMD and Medscape, her work has appeared in publications including The Washington Post, Boston Globe Magazine, and Business Insider. 
Follow Medscape on Facebook, Twitter, Instagram, and YouTube.