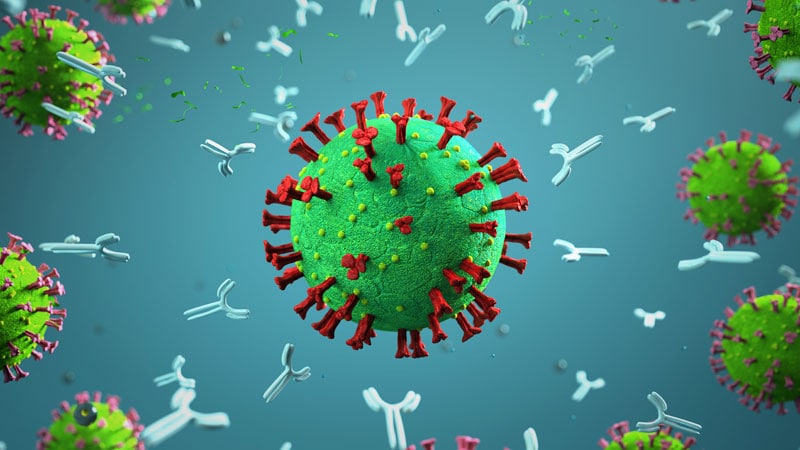 A UK-wide antibody surveillance programme is to be launched for the first time for people who test positive for COVID-19, the UK Health Security Agency has announced.
"We are rolling out antibody testing across the UK to gain vital data into the impact of our vaccination programme and on immune responses to different variants of COVID-19," said Dr Jenny Harries, the Agency's chief executive.
From next Tuesday, adults will be able to opt into the programme when they book a PCR test through NHS Test and Trace. Up to 8000 participants each day who receive a positive result will be sent two finger prick antibody tests to complete at home and return for laboratory analysis.
Working with test and trace agencies from all four nations of the UK, scientists hope to monitor levels of antibodies in positive cases. The data collected will help estimate the proportion of people who contracted COVID-19 despite developing antibodies after they either received a vaccine or were previously infected with SARS-CoV-2.
It is expected that the results could also give an insight into any groups of people who do not develop an immune response.
Informing Future Vaccine Policies
The UK Health Security Agency hopes that the data will give an overall picture of the effectiveness of COVID vaccines against different variants of SARS-CoV-2.
Last week, the Office for National Statistics estimated the presence of antibodies in around 9 out of 10 UK adults. However, it pointed out in its analysis that the detection of antibodies alone was not a precise measure of the immunity protection acquired from vaccination.
Participants will be asked to take their first antibody test as soon as possible after receiving a positive PCR test result. They should take their second antibody test 28 days after they tested positive. A comparison of the two antibody test results will give an insight into the development of immunity in vaccinated people and whether this might vary with different variants of the virus.
Spokespeople from all four UK nations said they hoped all eligible people would sign up for antibody testing.
"This innovative programme is only possible thanks to the thousands of people who continue to help with studies on vaccine and treatment effectiveness each week," said Dr Harries.
Sajid Javid, England's secretary of state for health and social care, said he hoped the antibody testing programme would bolster the "massive wall of defence" built by the COVID vaccination programme.
"I urge everyone across the UK to get both vaccinations as soon as possible," he said.
Action on Misleading Prices for Travel COVID Tests
The latest initiative accompanied an announcement that 82 companies offering day 2 and day 8 COVID tests for foreign travel faced being removed from the officially approved list, over concerns that some were advertising misleading prices.
The decision followed a rapid review of pricing and service standards that found some companies displayed lower prices on the Government list than were charged on their website when customers checked out, the Department of Health and Social Care said. A 'two strike' policy means firms would be removed if they failed to take action after a first warning.
A further 57 companies will be removed from the list as they no longer exist or do not provide a relevant testing service.
Mr Javid said: "We are also introducing regular spot checks this week to make sure all private providers follow the rules and meet our high standards of transparency."
Earlier this month it was confirmed that UK holidaymakers would benefit from cheaper travel testing packages. The cost of NHS tests for international arrivals were reduced from £88 to £68 for green or fully vaccinated amber arrivals, and from £170 to £136 for two tests for amber arrivals who were not fully vaccinated.