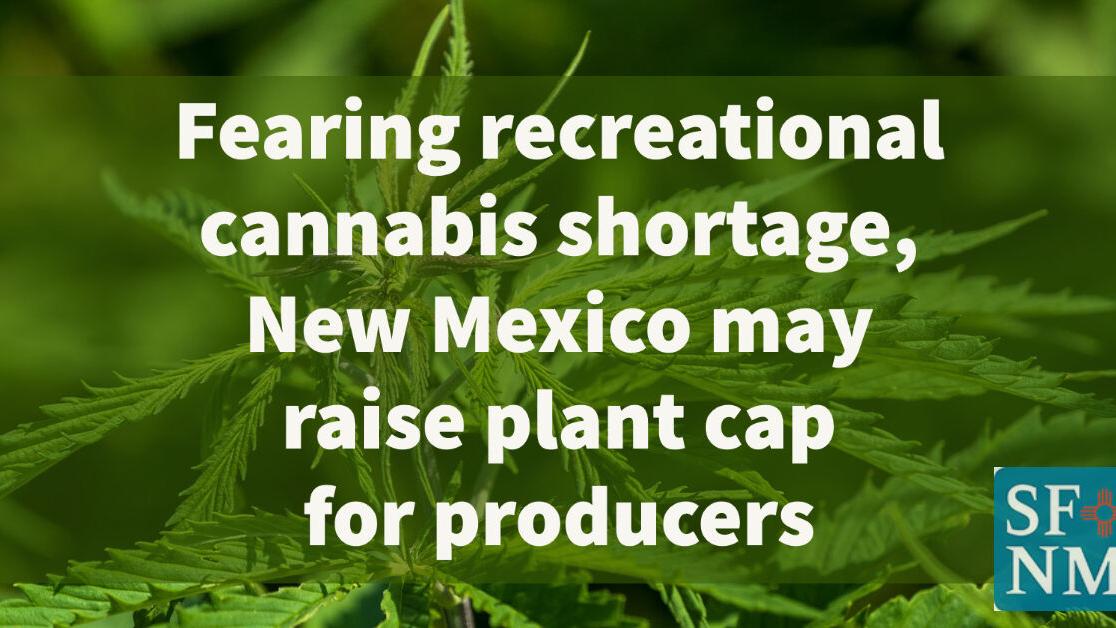 The Cannabis Control Division of the New Mexico Regulation and Licensing Department, a new agency tasked with creating guidelines for a legal cannabis industry in the state, has more than doubled the maximum number of plants a grower could produce.
The change in the agency's draft rules for cannabis producers — boosting the cap to as many as 10,000 plants from 4,500 — came in response to concerns that the lower limit would lead to a supply shortage, especially among patients in the state's Medical Cannabis Program.
Critics cited a potential rush to buy recreational cannabis when the legal market opens, likely sometime in early 2022.
It became legal June 29 for people 21 and older in New Mexico to use, grow and possess limited amounts of cannabis.
That same day, the Cannabis Control Division held a virtual hearing with stakeholders on a set of proposed rules from growers. Based on concerns raised at the hearing, the agency increased the initial maximum plant count for growers to 8,000. Producers also would be able to apply for approval of production increases in increments of 500 plants, with a total cap of 10,000.
The new cap on plant counts was one of several revisions officials have made to the draft rules. The Regulation and Licensing Department has scheduled a public hearing on the changes Aug. 6.
"After listening to feedback from the public, the Cannabis Control Division saw important ways that the draft rules could be changed in order to better support New Mexico businesses, entrepreneurs and consumers who are excited to participate in this new industry," Heather Brewer, a spokeswoman for the division, wrote in an email Monday.
Ben Lewinger, executive director of the New Mexico Chamber of Commerce, lauded the state's decision to increase the plant count cap.
"The plant count increase to 8,000 plants makes sense for New Mexico," he wrote in an email Monday. "It's unlikely we'll be able to avoid some type of supply-constrained scenario when adult use sales start happening, but this will definitely help to ensure that period will be short-lived, and that the supply for medical patients will be safeguarded."
The decision to increase the maximum plant count also stemmed in part from the results of a study by the Massachusetts-based Cannabis Public Policy Consulting group. Based on its research of other states that have legalized both medical and recreational cannabis, the organization found New Mexico would need between 2,007 and 3,756 plants per producer during the first year of legal sales.
The Cannabis Control Division also set a $10-per-plant fee for all cannabis producers. The initial draft of the rules would have charged larger cannabis producers $22 per plant.
Large-scale producers will still pay a $2,500 annual fee to operate, while microbusinesses would pay $500 or $1,000 per year, depending on their plant count.
The Regulation and Licensing Department has until Sept. 1 to finalize the rules for producers. Draft rules for manufacturing, testing and selling cannabis products have yet to be released.
Dozens of people who spoke at the June 29 hearing also expressed concerns about some of the requirements to apply for a producer license, such as proof of a facility for growing, security measures and water rights.
The new draft includes those provisions.
Duke Rodriguez, president and CEO of New Mexico Top Organics-Ultra Health, the state's largest medical cannabis operation, said Monday the bump up to as many as 10,000 plants is a step forward.
But, he said, he still thinks when retail sales start — sometime between Jan. 1 and April 1 — there will "absolutely" be a shortage of cannabis "unless an emergency rule is adopted immediately which allows substantial production to have begun at least yesterday or earlier."
He said that's because, given the tight deadline to get the market up and running, it's likely all new recreational cannabis producers won't begin new growth cycles until after all the rules are approved.