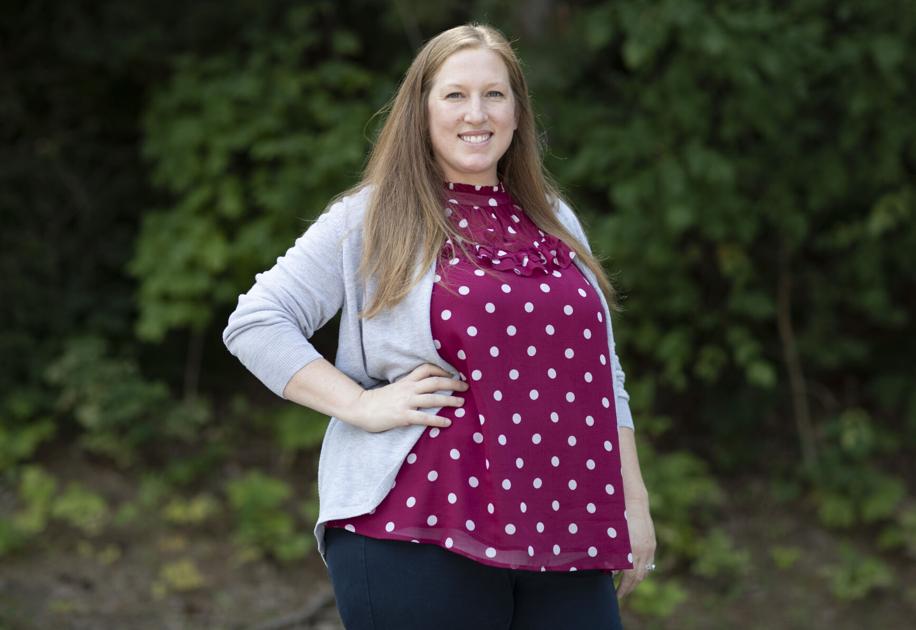 BEULAH — Katelyn Zeits grew up in a family of public servants.
Her mom is a township clerk; a sister is chief of police in Newaygo County — the first woman to hold that post; another sister works for the Traverse City Police Department; one nephew is a jail lieutenant; and another is a first responder on Beaver Island.
"What we were born and raised to do is to serve the public," said Zeits, the first female county administrator in Benzie County and at 33, the youngest.
The youngest of nine children, Zeits was raised on a dairy farm in Fremont where duties were not divvied up based on sex.
"There was no man or woman on the farm," Zeits said. "We all just did the same work. In our family it didn't matter. If you work hard enough you can do that job."
She brings that mindset to her new post.
Zeits was hired in May as the county's human resource and finance manager. She came from Traverse City, where she worked for 10 years as an administrative specialist and later as deputy clerk, a post she held for about seven years. She has a master's degree in public administration with a focus on local government management.
Five of the 23 people who applied for the administrator position were interviewed, including Zeits. Others were Joel C. Johnson, former state representative and owner of a feed and farm supply business; Caroline Kennedy, assistant village manager and clerk for Elk Rapids; William D. Kennis, executive director of the Benzie Transportation Authority; and Coury Carland, a procurement counselor with Networks Northwest and former Benzie commissioner.
Bob Roelofs, chairman of the Benzie County Commission, said Zeits' age was not a factor in considering her for the post.
"Are we concerned about her experience in the work field?" Roelofs said. "Not really. When you look at her educational background and the way she communicates, she blew them all out of the water. She was a step above."
Zeits replaces Mitch Deisch, who retired Friday from a 33-year career in public service, the last six in Benzie County.
"I'm super excited about Katie," Deisch said. "She's going to do a smash-up job. The county's not going to miss a beat."
Zeits is paid $77,000 annually and has a three-year contract. She was approved for the post on a 5-2 vote, with commissioners Art Jeannot and Gary Sauer voting against hiring her.
Jeannot said he favored Johnson, who has a background in economic development and would round out the county's administrative team.
"It really had little to do with whether Katie was qualified for the job," Jeannot said. "I'm in her corner and I'll do everything it takes to help her succeed. I think she'll do a fine job."
Zeits has a master's degree in public administration. She was involved in the new 16/50 Project offered through the Michigan Municipal League that focuses on getting women into coveted top municipal posts. The 16/50 name is based on the fact that while women make up 50 percent of the population in the state, they represent just 16 percent of local chief administrative officers.
Of Michigan's 83 counties, 66 are led by an administrator, manager or executive, according to information from the Michigan Association of Counties. Of those top posts, 18 are held by women. Of the remaining counties, a dozen list the county clerk as the administrator.
Zeits said a woman's management style may be different than a man's, as a woman's biological make up is not the same. Women are wired differently and they think differently, she said.
"For so long they've been the assistant or that kind of thing," Zeits said. "It's identified that women are very smart, they're very capable … and so we need to help push women up to the top. It's the world we live in."
Zeits has three boys, ages 4, 2 and 1. She said she's blessed because she shares parenting duties with her husband Ben Zeits. But many times women are the ones who figure out daycare in a family or pick the kids up from school or take them to the doctor, she said. They may feel those responsibilities conflict and they might fail, she said.
"In reality, it's OK to do those things, because you can still be successful," she said. "Women have to realize they can be just as good at something, even if they have all those other responsibilities. It's OK if they have to take a child to a doctor's appointment, they're still going to be successful at their job."
Zeits describes herself as a doer, someone who thinks outside the box and listens to ideas from other people and how those ideas can be implemented to make things more efficient.
"We need to do what is most wise with our dollars, because they're from the taxpayers," she said. "We want the taxpayers to be confident that we're providing the services that they need … so I'm always thinking about how can we do things better so we can stretch that dollar a little further."
Her goals include restructuring the administrative office. She'll continue doing financial duties, such as preparing the budget, and she has already hired an administrative assistant who will manage the office and "keep the ball rolling," she said.
She'll also hire a human resources professional, something Benzie has never had. They'll fulfill the traditional duties of the position, but so much more, she said.
"They're really going to be tasked with helping to build those relationships, build that trust, build a positive organizational culture," Zeits said. "I want Benzie County to be a place where people want to work, like Traverse City. People always want to work in Traverse City and so I want that here."
The county in 2018 created a finance manager position as part of a strategic plan that called for closer financial oversight. Susan Boyd was hired to fill the post but left in January after less than three years.
Meridee Cutler, the county's deputy administrator, also left earlier this year. Both took positions elsewhere.
Other goals include updating and digitizing the payroll process, creating a plan for how American Rescue Plan Act money will be spent, tackling some budget issues, such as funding Animal Control after a deadline was missed to get a millage renewal on the ballot, and making the jail self-sufficient.
The jail is supported by a voter millage, but is still subsidized by the general fund to the tune of about $450,000.
"Half a million dollars a year is not sustainable for the county," Zeits said.
Zeits said it was always her end goal to be a county administrator or city manager. Traverse City was really good to her and she grew professionally and personally while there, she said. But she got to a point where she hit a wall.
"I was always going to be the deputy clerk and I wanted more than that," she said.
She applied for the Benzie human resources/finance manager position not just because it was a growth opportunity for her, but because she wanted to serve the Benzie community, where she has lived for six years. When the administrator job opened up, she went for it.
One of the things she learned from the 16/50 Project is that women don't apply for those positions because they don't meet every qualification on the list and think they're not good enough.
"While maybe I didn't meet every bullet point on that job description, I thought, you know what, I'm going to try because maybe I am that person. And it turns out I was."