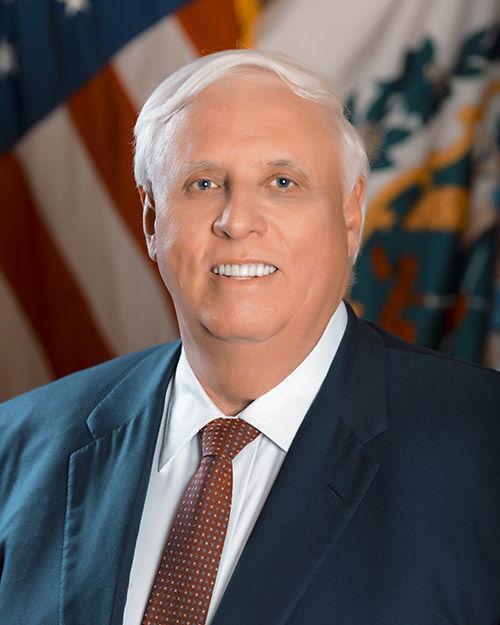 West Virginia Gov. Jim Justice has reactivated a potentially powerful state board that had been dormant for the past decade in an effort to foster fossil fuel development.
Justice has rebooted the Public Energy Authority by appointing new members to the board, which went dormant in the 2010s even though state code gives it broad powers that include buying, leasing and issuing bonds to build electric power or natural gas transmission projects, and representing the state regarding "national initiatives" and "international marketing activities" that concern the mineral development industry.
The authority has the power to enter into management contracts with second parties to operate any electric power, gas transmission or other related energy project, either during construction or permanent operation. It can finance electric power or natural gas transmission projects by making secured loans to provide funds to buy or build those projects. It can also take property through eminent domain.
Justice's reactivation of the board may have violated state code stipulating that no more than two governor appointees may be employed by or associated with any industry the authority is empowered to impact.
A coal magnate himself, Justice defended his approach toward reestablishing the authority at a news briefing on the state's COVID-19 response Monday, praising his appointees as "rational thinkers, not one-sided-thinking people," expressing pride in coal and gas workers and touting the importance of "pristine environment and waters" as a tool to promote tourism.
"But I absolutely don't want us to turn our back on two great industries, whether it be coal or natural gas, that can absolutely do greatness for West Virginia for decades to come, in my opinion," Justice said.
Justice's appointees to the authority board are Gas and Oil Association of West Virginia Executive Director and Republican Charlie Burd, West Virginia Coal Association President and Republican Chris Hamilton, retired West Virginia Division of Energy director and Democrat Jeff Herholdt and Jeffery W. Allen, a Republican and senior vice president at Pardee Resources Company, a Philadelphia-headquartered business that invests in natural resource properties.
Allen works at a Scott Depot branch of the company, according to a member's information sheet Allen signed in February declaring his interest in Public Energy Authority board membership.
But Allen wrote on his member's information sheet that he was not employed by or associated with any industry the authority is empowered to affect, even though the Public Energy Authority is statutorily designed to focus on natural resource properties — something that Pardee Resources invests in.
A letter from Justice to West Virginia Secretary of State Mac Warner dated Friday declares that Burd and Hamilton are employed by or associated with industries that the authority is empowered to affect but does not say that about either Allen or Herholdt.
In addition to prohibiting more than two appointees on the board who may be employed by or associated with industries that the authority may impact, state code also requires that one have "significant experience in the advocacy of environmental protection."
The member's information sheet signed by Allen asserts that he does have significant environmental protection experience.
Allen is senior vice president of acquisitions, development, coal and minerals at Pardee Resources and served on the Coal Association's board of directors until resigning from the board earlier this year. 
Allen is responsible for evaluating natural resource acquisitions, developing natural resource properties and managing the company's coal and mineral division, according to Pardee Resources Company's website. He also serves on the board of directors of the West Virginia Land and Mineral Owners Association and West Virginia Land Stewardship Corporation, according to the company website.
No more than three of the governor's appointees may at any one time belong to the same political party.
The new appointees will serve staggered terms per state code. Burd's term lasts the longest, ending June 30, 2025. Allen's term ends June 30, 2024. Hamilton's term ends June 30, 2023, while Herholdt's term finishes June 30, 2022.
Justice, a Republican, contended at his news briefing Monday that he wasn't sure if the appointees he announced comprised the entirety of the board.
The seven-member board also consists of the secretaries of the state departments of Commerce and Environmental Protection and the director of the Economic Development Authority, per state statute.
Those appointed to the board by the governor serve pending Senate confirmation.
In a statement Monday, West Virginia House Speaker Roger Hanshaw, R-Clay, hailed the reactivation of the Public Energy Authority.
"It has never been more important, when so many of us are working to help West Virginia reinvent her economy, to have a dedicated team focused on all forms of energy and how it can help in those efforts," Hanshaw said.
Burd and Herholdt said Monday they have little sense of what projects the authority may focus on or even when it might meet, citing the quick turnaround for them as new appointees.
Burd served as executive director of the Independent Oil and Gas Association of West Virginia since 2002 before it combined with fellow lobbyist group West Virginia Oil and Natural Gas Association to become the Gas and Oil Association of West Virginia effective Jan. 1.
Completing pipelines that transport natural gas produced in West Virginia throughout the country and resisting pressure from environmentalists who want to end fossil fuel energy use entirely are reasonable actions for the newly revitalized authority to take, Burd said.
"I would think that trying to maintain baseload power plant production in this state and augment that baseload production with either renewed interest in the use of natural gas or the use of clean coal technology would ultimately seem to be areas that this authority would be exploring," Burd said.
Herholdt was appointed as the first director of the Division of Energy in 2007, serving until 2016. He managed the West Virginia Development Office Energy Efficiency Program from 1976 to 2007.
Herholdt signaled an all-of-the-above approach to the state's energy portfolio and singled out the Black Rock Wind project, a 115-megawatt wind farm in Grant and Mineral counties that the Governor's Office and developer Clearway Energy Group announced construction had begun on in January.
"Certainly, there's a lot of interest in natural gas drilling. We have a lot of coal resources we're mining," Herholdt said. "Hydro power is with us. We're a very energy-intensive state. Everyone has their favorite energy source."
West Virginia Public Service Commission Chairman Charlotte Lane said in an email Monday that she was pleased that Justice had reactivated the board.
"To the extent that the PSC can cooperate with it, we will," Lane said.
Appalachian Power and FirstEnergy, which both operate and have closed coal-fired plants in West Virginia, reserved judgment in emailed statements Monday.
"It's been more than a decade since the West Virginia Public Energy Authority was last active and a lot has changed since then," Appalachian Power spokesman Phil Moye said. "We look forward to talking with the Governor's administration to learn in greater detail about their plans and expectations."
"FirstEnergy is committed to working with West Virginia's leadership on energy policy that affects the operation of its generation plants, costs, potential impact to customers and the state's energy future," FirstEnergy spokesman Will Boye said. "We look forward to learning more about the newly reactivated West Virginia Public Energy Authority."
Editor's note: This story was updated to note that Jeffery Allen resigned from the West Virginia Coal Association board of directors earlier this year.
Reach Mike Tony at mtony
@hdmediallc.com, 304-348-1236 or follow @Mike__Tony on Twitter.