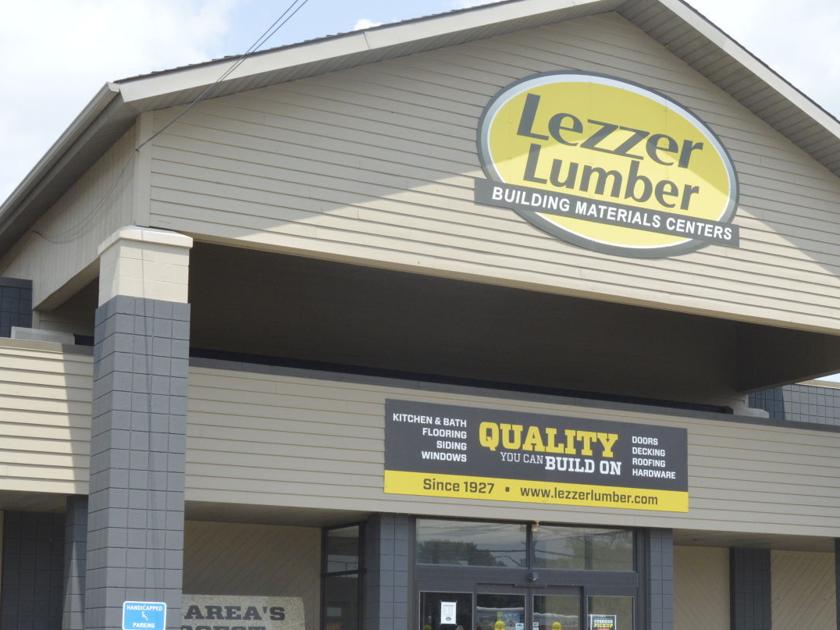 DuBOIS — Significantly higher prices and shortage of materials in the lumber industry are part of the fallout from the COVID-19 pandemic and booming housing market.
Lezzer Lumber has been in business in Clearfield County for 92 years, said CEO Mike Lezzer, starting in 1929. Himself, his brother Dave and cousin, K.C. Lezzer, are the third generation Lezzer Lumber family.
The building materials business started in Curwensville, its home base, before opening other locations. The DuBois facility on Shaffer Road opened in the 1970s.
Lezzer Lumber now has 10 retail locations, a truss plant and three commercial door divisions, he said. The locations mainly offer the same things, depending on the size of the markets. For example, in places like Harrisburg and Lancaster, Lezzer Lumber supplies more single and multi-family homes, and it isn't unusual to supply an apartment complex.
When all non-essential businesses were shut down as a result of COVID-19 in 2020, Lezzer Lumber was fortunate enough to stay open, given they could supply materials for emergencies like a leaking roof, said Lezzer. Unfortunately, contractors weren't allowed to work, so there weren't many people to sell to.
Each store had three or four people working, said Lezzer, and the company laid off 95 percent of its staff during the shut down. Following the first round of stimulus money, the business saw an influx in customers, being that more people were doing home projects like remodeling.
"During all of this, the lumber mills and every manufacturer in our industry thought we were heading into a recession," Lezzer said. "They all cut back production."
These manufacturers also had the same issues everyone else did, he noted, with people contracting COVID-19 and not working. Ultimately, the whole industry has been impacted by this, given there has been an absolute shortage of materials.
Coming out of the lockdown, said Lezzer, the lumber business was still booming, with people moving from big cities and populated areas to rural areas in Pennsylvania. But, there wasn't enough capacity for all of the demand.
Despite the price and shortage of materials, the lumber market has been extremely busy this entire time, given the housing market is "on fire," he said.
There were many customers wanting to build homes, but it was taking six to eight weeks to get the lumber trucks, Lezzer said.
It became clear that this wasn't a short-term problem, he said.
"People just started buying anything they could," he said. "We were buying whatever we could to keep our customers."
Prices of lumber were four times what they usually are, an all-time high, he said.
"It has come down, and it may settle for a while," Lezzer said. "We'll hit a bottom in summer, and bounce up again. Summer is our busiest time."
The price of lumber has recently dropped 25-30 percent, Lezzer said, but it still takes three to four weeks to get a load of lumber.
A builder could be working with a customer in DuBois or Curwensville in January or February, Lezzer explained, and not starting the job until April, and the price of the house would have increased $30,000-$40,000 during that time. Many projects have been delayed.
Even with just a remodeling job, plywood has gone from $15-$16 a sheet to $50, Lezzer said. Remodeling a garage could cost $900-$1,000 extra.
People are also shying away from apartment buildings more often, he added, and wanting their own homes.
Throughout the years, Lezzer said he has never seen the industry like this, noting it can take 12 weeks just to receive kitchen cabinets. Contractors are selling 30-40 houses per month.
When the Texas freeze hit in February, this also impacted the industry, since supplies like vinyl windows and decking all come from refineries in Texas, he noted.
"They were all shut down — this made even more of a problem," said Lezzer.
Customers have been understanding during this time, although it's frustrating when supplies take so long to arrive and people are excited and anxious to move in.
This was also a stressful time for Lezzer employees, he said.
"We had COVID issues and people who were off; we couldn't get materials. It's hard to hire people right now. People at all of our locations have been fantastic through all of this. I cannot say enough about our staff."
Lezzer Lumber also has a very loyal customer base, both professionally and homeowners, he added.
The company aims to give back in return, too, supporting the United Way and gearing a lot of efforts toward kids and families. It held its contractor exhibition, bringing in all of its vendors to one location, in DuBois this summer.
"It was a nice opportunity for people to finally get out and socialize a little bit, and hear from vendors," he said.