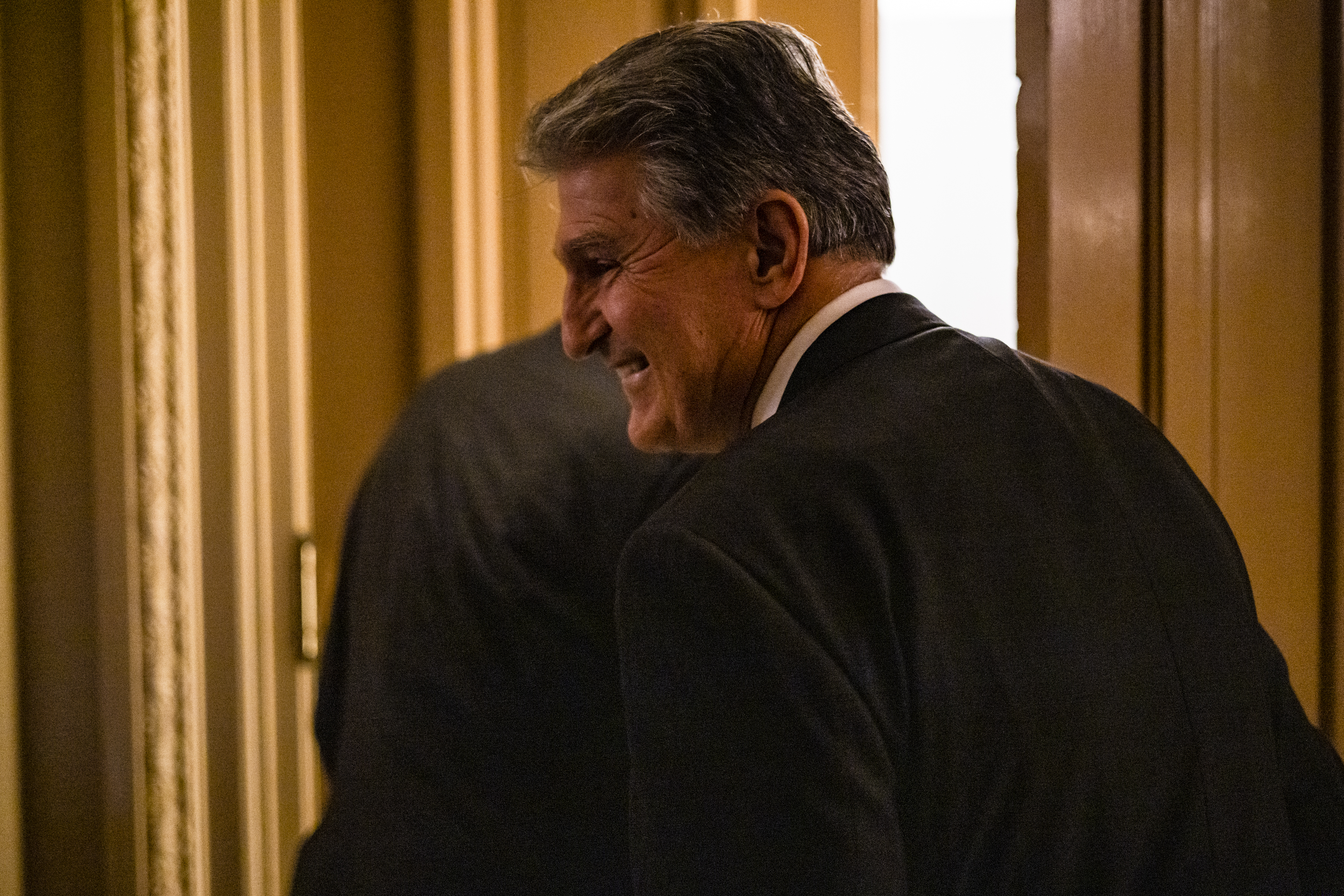 Sen. Joe Manchin (D-W. Va.) was set to attend an event hosted by wealthy oil industry leaders and Republican donors days after he denounced the Democratic infrastructure bill for seeking to "get rid of" fossil fuels.
Manchin was scheduled to travel to Houston, Texas on Friday for a fundraiser hosted by a committee largely comprised of Republican donors with ties to the oil and natural gas industry, according to The Texas Tribune. A copy of an invitation cover letter obtained by the news outlet says that the event is geared towards "supporting" Manchin, who the group describes as "a longtime friend, since his days as Governor of West Virginia."
The cover letter also dubs the moderate Democrat "our bipartisan Senate Leader for Energy," referring to Manchin's position as chair of the Senate Energy and Natural Resources Committee. The invitation reportedly urges attendees to donate $5,000 to Manchin's leadership PAC and another $5,800 to his 2024 reelection campaign—although the senator has not yet announced that he is running for another term.
Members of the event's hosting committee include Jeff Hildebrand, the billionaire co-founder of energy company Hilcorp, who personally donated $150,000 to former President Donald Trump's 2020 reelection campaign. Rich Kinder, billionaire co-founder of energy infrastructure company Kinder Morgan is also on the committee. Kinder has also donated generously to GOP candidates in recent years.
While most of those hosting the event have energy industry ties and a history of donating to Republican political candidates, the event is not exclusively Republican. Former Houston Mayor Bill White, a Democrat, is listed as a member of the hosting committee, while some of the other hosts have also occasionally made donations to Democratic candidates in addition to Republicans.
The event was scheduled to take place two days after Manchin told CNN he was "concerned" that the "climate portion" of the $3.5 trillion Democratic infrastructure plan included efforts to eliminate fossil fuels. Manchin, who is from a state long associated with coal production, said that such a move would not "clean up the global climate," but instead make it "worse."
In remarks to The Washington Post, the senator indicated that he believed attempting to remove one of the top causes of global warming would backfire because there would not "be another country who will step to the plate to do the research and development that will fix the emissions that are coming from fossil right now."
On Thursday, Manchin met to discuss voting rights with a group of Democratic leaders of the Texas state House who recently left their state to block Republicans from passing a restrictive voting rights bill. Manchin has faced heavy Democratic criticism for not backing the national voting rights bill the For the People Act, as well as his refusal to support eliminating the Senate filibuster rule.
Newsweek reached out to Manchin's office for comment.